Happy New Year!
At the beginning of 2016, NanoEFI was just a concept in very early testing.
Since then, part-time (yet intense while active) development has brought NanoEFI a long way.  It's been a unique learning experience and I thoroughly enjoy the work.  A big thank you to everyone who has shown interest, and to everyone sending me messages wanting a kit right now!
Carving off the time necessary to post updates is always difficult, so I'll cover as much ground with this series of updates as possible.
---
Version 0.1.7
---
What happened to the Fall Beta release?
Although very far along, the development just isn't ready yet.  I've decided that it's' best to extend the pre-alpha and alpha stages.  I'd rather release later, than release too early and skimp on quality.
A few stubborn hardware problems are holding up software development right now.  The newest changes to hardware accounts for only 2% of the progress bar, but reflects a big redesign and shift in overall direction.
---
The Latest Hardware – v0.1.7
My last update covered v0.1.2 – whoa, that was five iterations ago!  These new boards have just arrived, and are waiting for assembly and reflow.
Until v0.1.6, headers for the Arduino Mini were being used for development.  This became an encumbrance to progress of the design and had to go.

Freeing up board space
Dropping the Arduino board clears room for future development of an often requested set of features.
Dual Cylinder Support (Second injector and ignition circuitry)
Wideband A/F Input
Knock Detection
Although I'm moving in a direction that would accommodate these features, right now these aren't immediate objectives.  Top priority is getting development to the point of being ready for production of beta units, and making kits available with the current official features enumerated on the home page.  Keep in mind, we're still in the pre-alpha stage right now.
Crystal upgrade – 20mhz

The ATMEGA is capable of operating at 20mhz, whereas Arduino boards are limited to a slower 16mhz.   This upgrade should give us the bump in performance necessary to support vehicles that run higher engine speeds (past 12,000rpm) and across a wider temperature range than what would otherwise be possible.
Not to mention the more precise and reliable characteristics of a real crystal over a resonator.
---
3… 2… 1… We Have Ignition!
Testing the new ignition system blew away my expectations, and was a lot of fun. On the bench, the new hardware tested able to drive stable spark to 30,000rpm.  Wow, no performance bottleneck there!
The ceiling of 30k shows great potential to optimize firmware (streamlining calculation and communication routines) for higher maximum redline of the system later.
---
New Feature: The Mobile Dashboard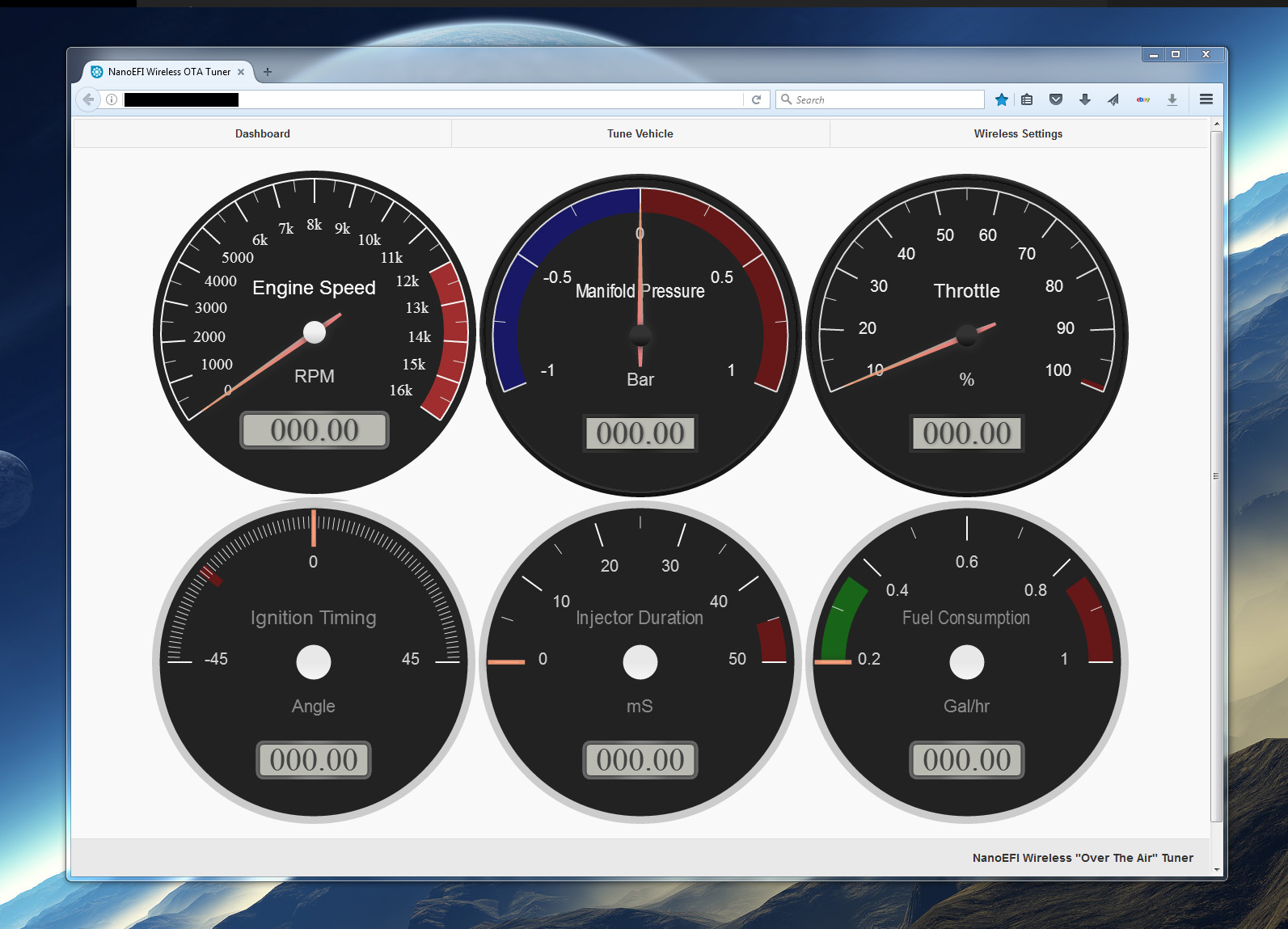 I'm very excited about the new Mobile Dashboard, it will transform any mobile or desktop device into a functional automotive gauge set. Originally this feature was named the "live view" with very limited functionality, intended for diagnostics with slow update speeds.
Fortunately with the improvements to the ESP libraries over the last year, it appears that we'll have a fully featured real-time dashboard!
---
Wireless "Over the Air" Mobile Tuner
The Wireless OTA Tuner has been really shaping up in development.
In case you missed previous updates, NanoEFI has its own specialized on-board wireless tuner.  Aftermarket EFI kits typically force you to carry around a laptop in order to tune your machine.  If you're lucky, some will produce a (clumsy) Bluetooth adapter for their system, and gladly charge you more for the option.
NanoEFI natively creates a local hotspot, and connects easily in your internet browser on any mobile, tablet, or desktop machine for tuning.
This is great, because everyone has a modern browser in their pocket these days.  Not to mention the benefits of using the robust TCP/IP protocol.   If you use Firefox or Chrome, you already have everything you need to tune NanoEFI!
No special hardware, adapters, or other such hassles. 
The focus of the Tuner program design is to be clean and intuitive, so you don't need to spend days learning how to use it.
---
Internet of Things (IOT) Features
Managing the Mobile Tuner Hotspot (WiFi) and external LAN connection is done through the Wireless Settings tab.
Configuring a LAN is entirely optional to the user, but doing so opens up many feature possibilities:
One-touch OTA Firmware Updates
For stationary machines (generators and similar) off-site tuning, remote dashboard, and remote kill/start switches
Backup vehicle tune profiles to the cloud
Security lockout – suspend operation to prevent unauthorized starting.
There will be much more on this later.
---
Flash Memory – New storage strategy
Remember when I mentioned the need for extra memory at the bottom of this update?  To make the On-Board EFI Tuner work, megabytes of software and profile data has to be stored somewhere.
Due to limited memory size, storing this information isn't possible on the ATMEGA. I determined that the 32megabit Spansion NOR Flash chip was the best solution. Essentially, a "hard drive" for the Tuner's on-board server.
Development of this memory setup was a big success, and worked very reliably.  I developed streaming functions for using the ATMEGA as a communication bridge, between the computer's serial COM port (UART) and SPI flash.   After achieving decent transfer speeds, I started building a new Flash file system from scratch.  Even wrote a Windows application for easily burning the Tuner software and profile data to different areas of memory, which sped up development greatly.
Looks great, right?
Yet the landing pads for the memory device are absent in the picture above of the v0.1.7 board.  If it worked so well, what happened?
All of that work was scrapped in the end. Thanks to a little oversight in my initial homework,  I was unaware that newer ESP8266 libraries already have this functionality, and the ESP has more than enough memory for data storage on board.  Oops.
I really wanted to use that dedicated external memory, and spent a lot of time getting it right.  However, rule #1 of NanoEFI is ultra low cost. The extra $0.68 price tag on each (now redundant) flash chip meant that it had to be phased out.
These things happen.  What's important is that we've pivoted and will continue moving in the right direction!
---
Want more frequent updates?
The best way to encourage me write more frequent updates is to like, share and comment on the NanoEFI Facebook page.
With a bigger audience, I can prioritize communicating more often.  Help get the word out, and share this project with your friends! 😀